Extension Attributes
sccmtspsi allows the creation of 18 extension attributes. Extension attributes are custom task sequence variables that can be used to chart the path of the task sequence.
The input values for the extension attributes are set in the Realms configuration file. The sccmtspsi operator can then select the necessary values for each of the above attributes in the sccmtspsi application console in WinPE.
Configuration file view :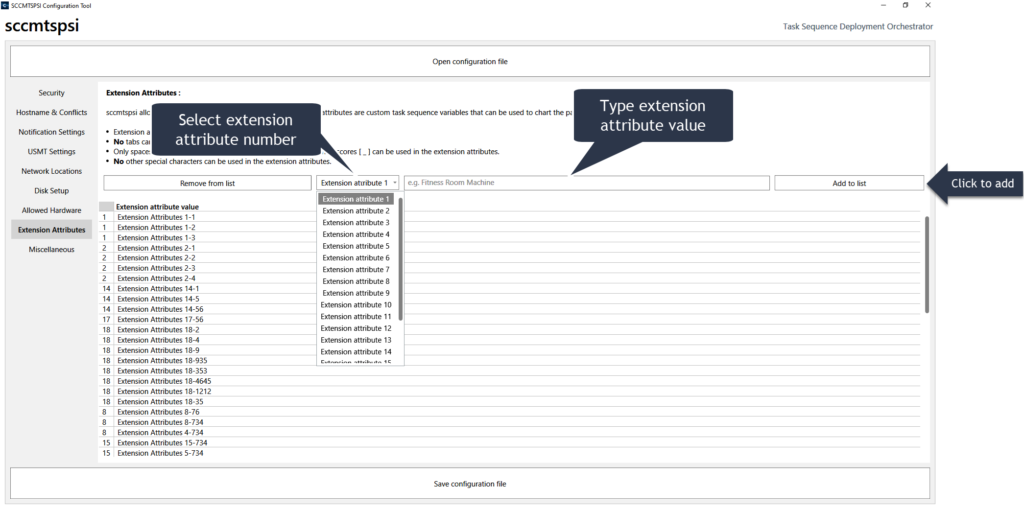 sccmtspsi application console view:
Clicking the 'LOAD PRESETS' button will load the values for the extension attribute(s) if the task sequence variable associated with the extension attribute(s) is already set.
Clicking the 'LOAD SELECTION FROM FILE' button will load the extension attributes from 18 line text file with a file extension '.extatts'.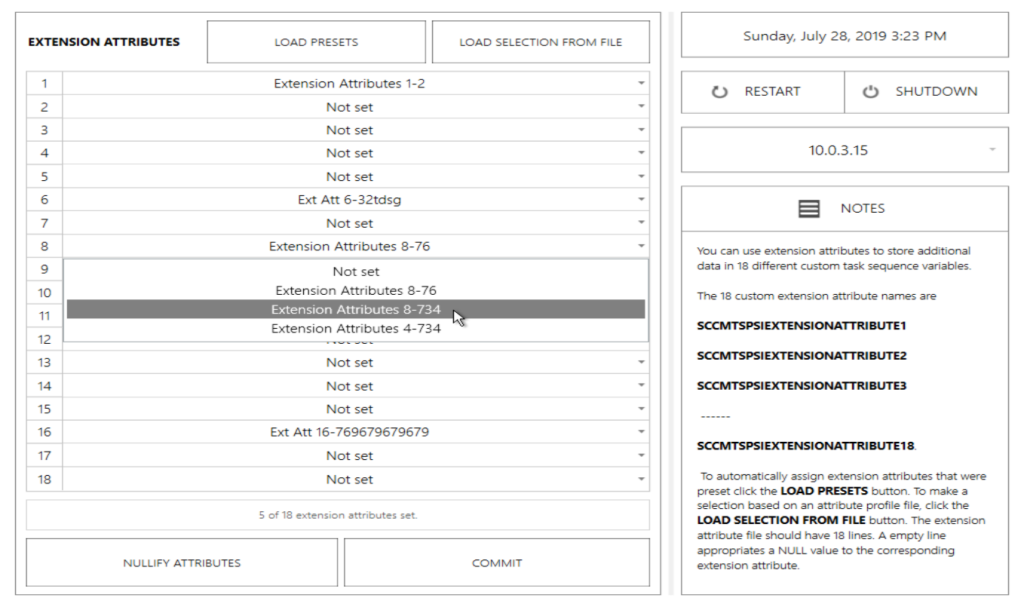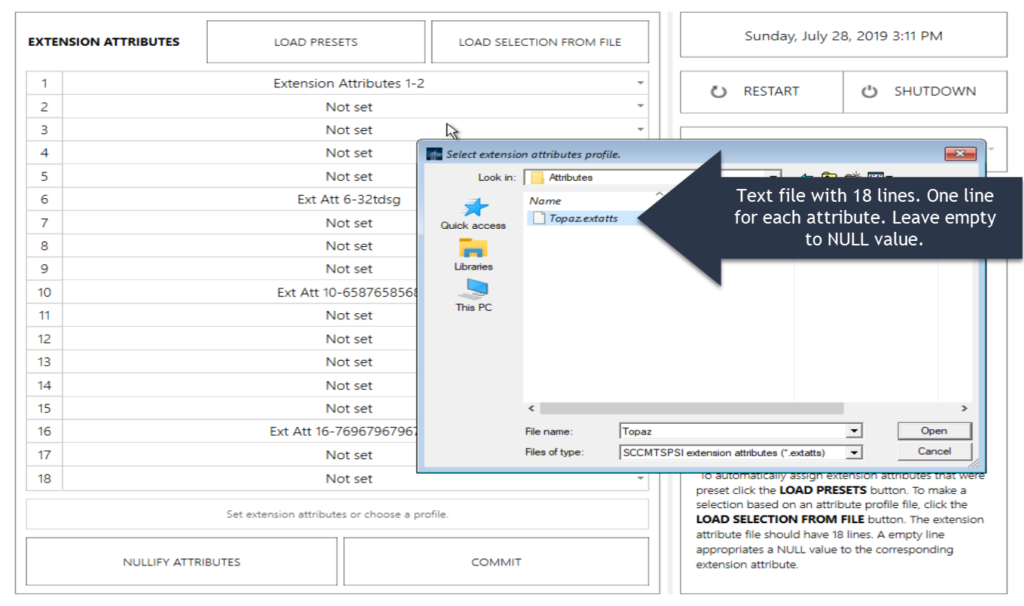 The following SCCM task sequence variables are set by the assignment of values to the extension attributes.
These variables can be used to in your task sequence to route your task sequence in multiple direction based on the combination of these variables.
| | |
| --- | --- |
| Task sequence variables | |
| SCCMTSPSIEXTENSIONATTRIBUTE1 | |
| SCCMTSPSIEXTENSIONATTRIBUTE2 | |
| SCCMTSPSIEXTENSIONATTRIBUTE3 | |
| SCCMTSPSIEXTENSIONATTRIBUTE4 | |
| SCCMTSPSIEXTENSIONATTRIBUTE5 | |
| SCCMTSPSIEXTENSIONATTRIBUTE6 | |
| SCCMTSPSIEXTENSIONATTRIBUTE7 | |
| SCCMTSPSIEXTENSIONATTRIBUTE8 | |
| SCCMTSPSIEXTENSIONATTRIBUTE9 | |
| SCCMTSPSIEXTENSIONATTRIBUTE10 | |
| SCCMTSPSIEXTENSIONATTRIBUTE11 | |
| SCCMTSPSIEXTENSIONATTRIBUTE12 | |
| SCCMTSPSIEXTENSIONATTRIBUTE13 | |
| SCCMTSPSIEXTENSIONATTRIBUTE14 | |
| SCCMTSPSIEXTENSIONATTRIBUTE15 | |
| SCCMTSPSIEXTENSIONATTRIBUTE16 | |
| SCCMTSPSIEXTENSIONATTRIBUTE17 | |
| SCCMTSPSIEXTENSIONATTRIBUTE18 | |